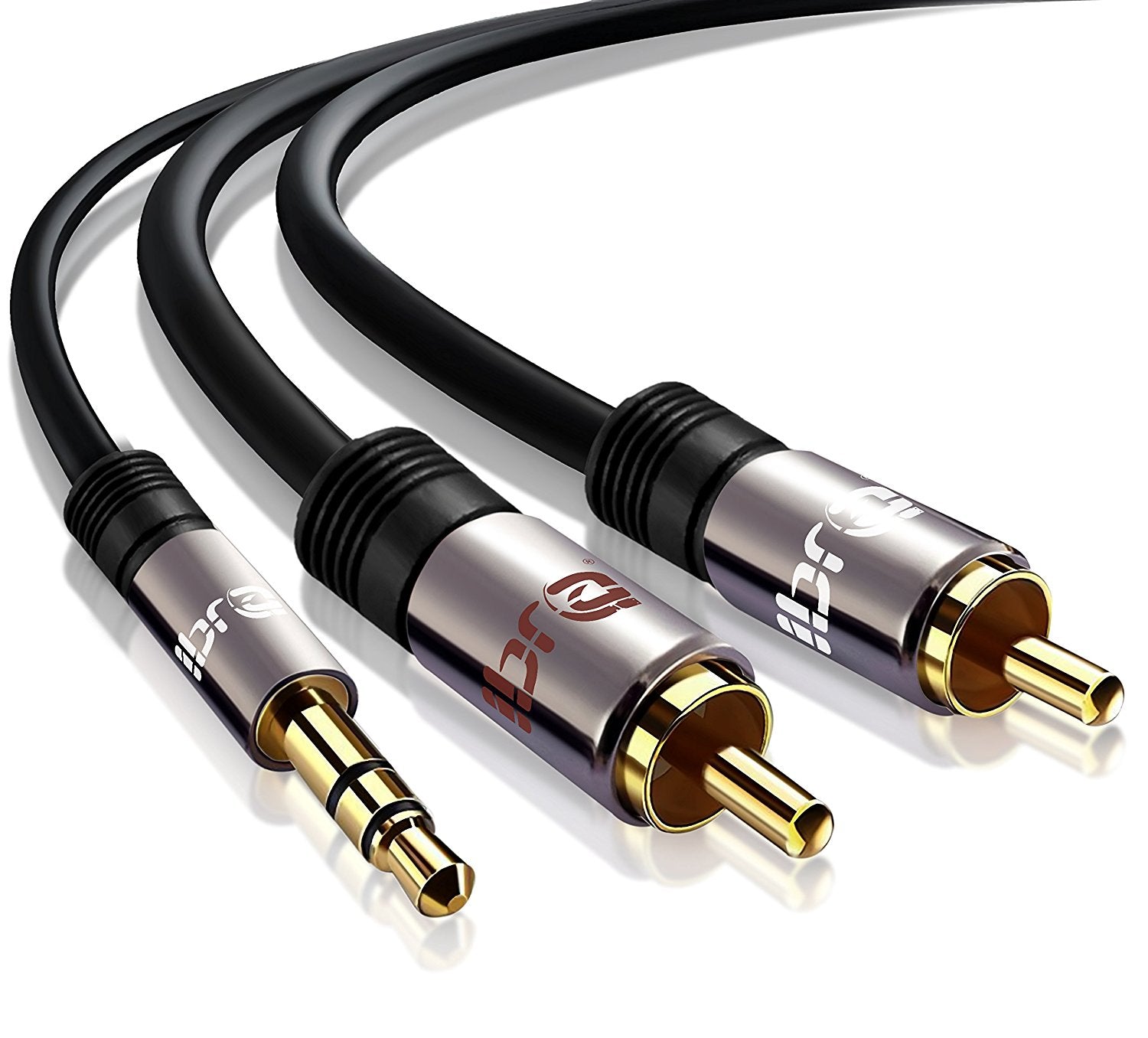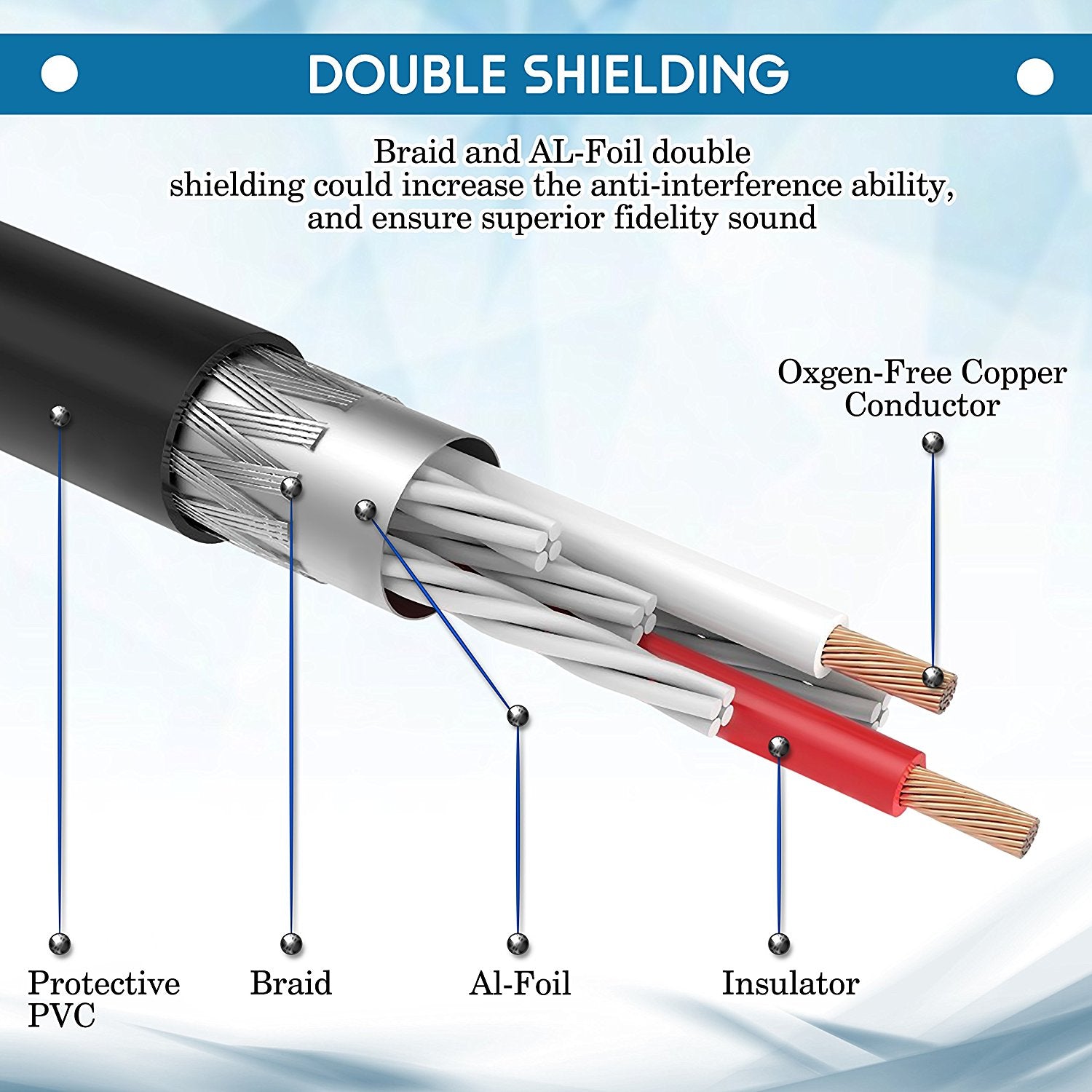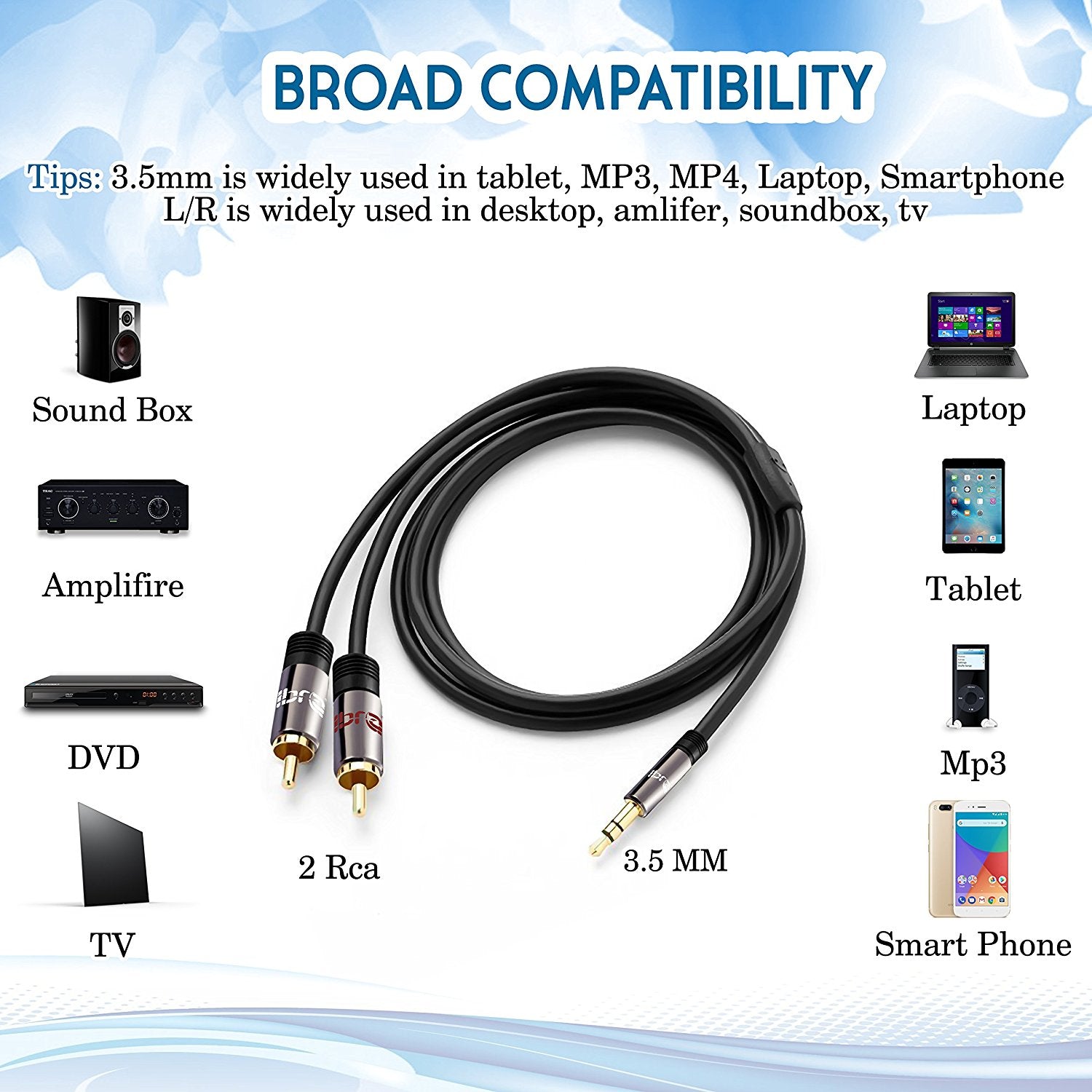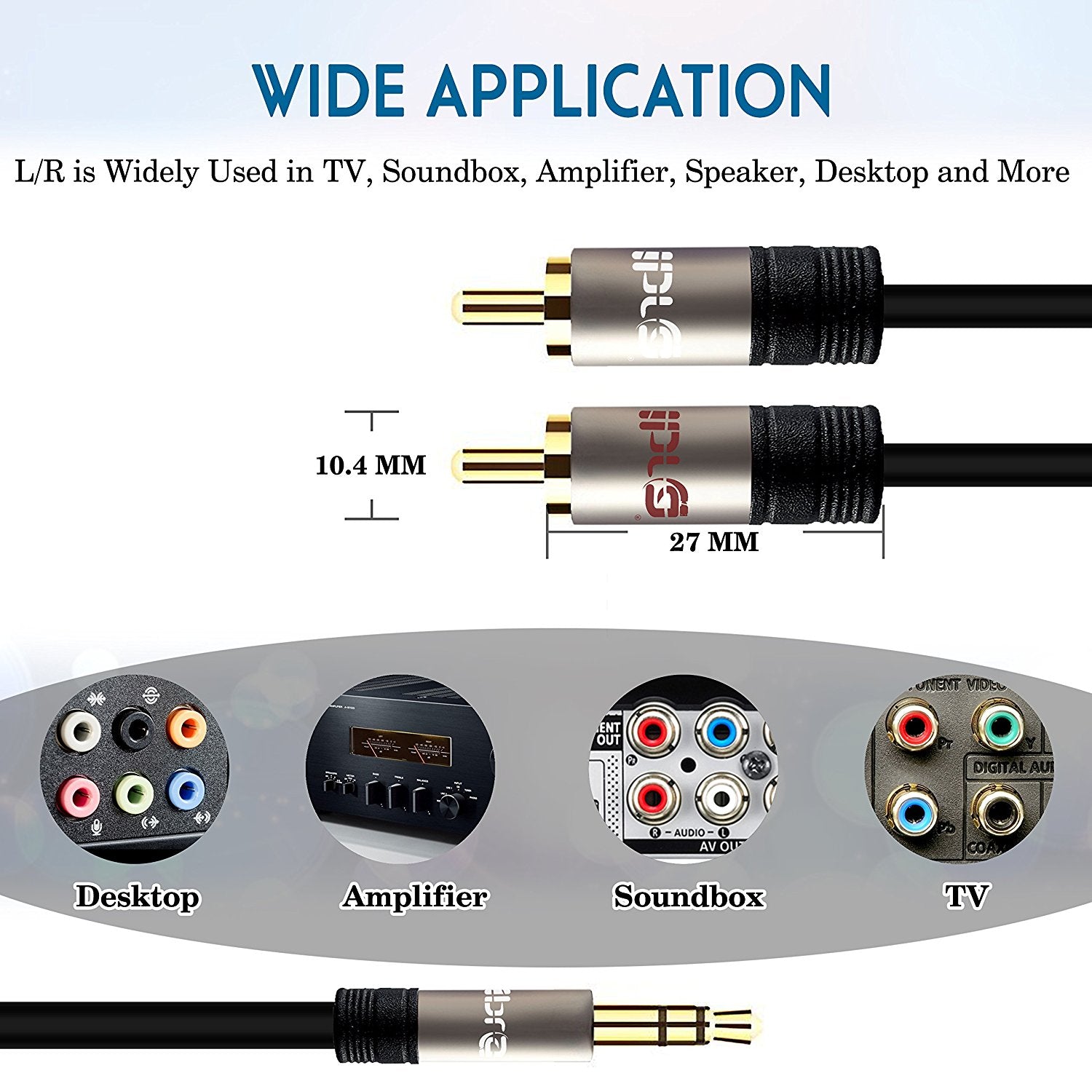 Premium 3.5mm Stereo Jack to 2 RCA Phono Plugs Audio Cable Lead GOLD 10m - IBRA
IBRA 2RCA to 3.5mm Stereo Audio Cable Gold-Plated Phono Mini Jack Aux Lead

Bi-Directional, Meet More Occasions
IBRA RCA to 3.5mm Jack Cable delivers stereo audio from 3.5mm devices to 2RCA (Red and White)audio outputs. Or on the contrary. It can link a phone to the car stereo system, or connect TV to Hi-Fi amplifier.
Well-Made, Work As Expected
Manufactured with high-quality materials(gold-plated connectors, metal shells and soft PVC jacket), IBRA Phono to Aux Cable provides lossless, noise-free and high-fidelity sound experience to you and it lasts longer.
Universal Compatibility
The 3.5mm aux male connector is intended for:
* iPod, iPad, iPhone, smartphones, tablets, laptops, MacBook Pro, Mac Air, Notebook, computer, MP3 players, Walkman, Discman Player; Headphones, wireless earphones, portable Bluetooth speakers, Hi-Fi stereo sound systems, car stereo system, Hi-Fi amplifier and other 3.5mm-enabled devices.
The 2 male RCA Phono (Red/White, Left/Right) connectors are meant for:
* CD player, DVD player, VCR, video camera, TV, car radio, projector, Wii box, DTS Decoder, Mini Disk, Xbox 360, PS3;
* Subwoofer, Hi-Fi Amplifier, Hi-Fi speaker, mixer, turntable, AV receiver, soundbar, DJ controller, record player, DAC and other devices of 2RCA(Red and White) ports.
Additional Information:
2RCA TO 3.5MM IBRA CABLE: 3.5MM to 2RCA Stereo Audio IBRA cable is compatible with all stereos with an RCA connectors (Left/Right) input it can be connected to home cinemas systems, stereos, speakers, amplifiers, TVs and Hi-Fis to iPhone/iPod,Smartphones,MP3, Laptop and Any Digital Devices equipped with 3.5mm Jack connectors.

PREMIUM SOUND QUALITY: The 3.5mm aux to rca IBRA cable features a corrosion-resistant gold-plated 3.5mm connector and high-quality polished metal connectors, not only seamlessly clear, high-quality stereo sound, but also consistent reliability and minimal signal loss and provides protection against radio frequency interference (RFI) and electromagnetic interference (EMI).

RCA to 3.5MM BROAD COMPATIBILITY: This 3.5mm to 2RCA Audio Auxiliary Stereo Y Splitter Cable is compatible with iPhone, iPod, iPad, tablets including Google Nexus, Samsung, MP3 players, CD players, laptops, tablets and any other digital device with a 3.5mm audio jack for connecting to devices with 2RCA ports, such as a Bose radio, Lepai LP-2020A+ Tripath TA2020 Class-T Hi-Fi Audio Amplifier, Home Spot NFC-Enabled Bluetooth Audio Receiver and more.

BEST-IN-CLASS CABLE DESIGN: Seamlessly transmits stereo audio for high quality sound. Gold plated connectors for quick, easy left-and-right hookups, RCA connectors have easy grips for plugging and unplugging while ensuring reliability and durability.

Bi-Directional: RCA to 3.5mm jack audio cable also allows you to connect a DVD player, TV, Wii box, video camera, VCR, or other equipment with legacy RCA connectors to speakers or AV receivers with a 3.5mm stereo mini-jack for audio only.
You will get free shiping option for all orders over 25 GBP. "All cables ordered Monday to Friday before 3pm will be shipped on the Same Day Via Royal Mail 1st Class Delivery Service". Goods other than cables are shipped out Monday to Friday for delivery on your choosen service. We aim to ship all goods within 1 working days of receiving your payment. Buyers in the Highlands and Islands maybe asked to pay a shipping surcharge, this is £9.95 for larger items. Free for small packet items. We will contact you before shipping if this is applicable. Goods valued at over £50 are shipped by courier. A signature is required on delivery for signed for deliveries we use TNT,DHL,UPS and Parcel Force as required. We will where possible provide live tracking information - this will be emailed to you.
Goods must be paid for in full before shipping and must be paid for within 7 days. If you change your mind, simply let us know and we will cancel the transaction.All your payments details will be secured as we use 248bit SSL security.