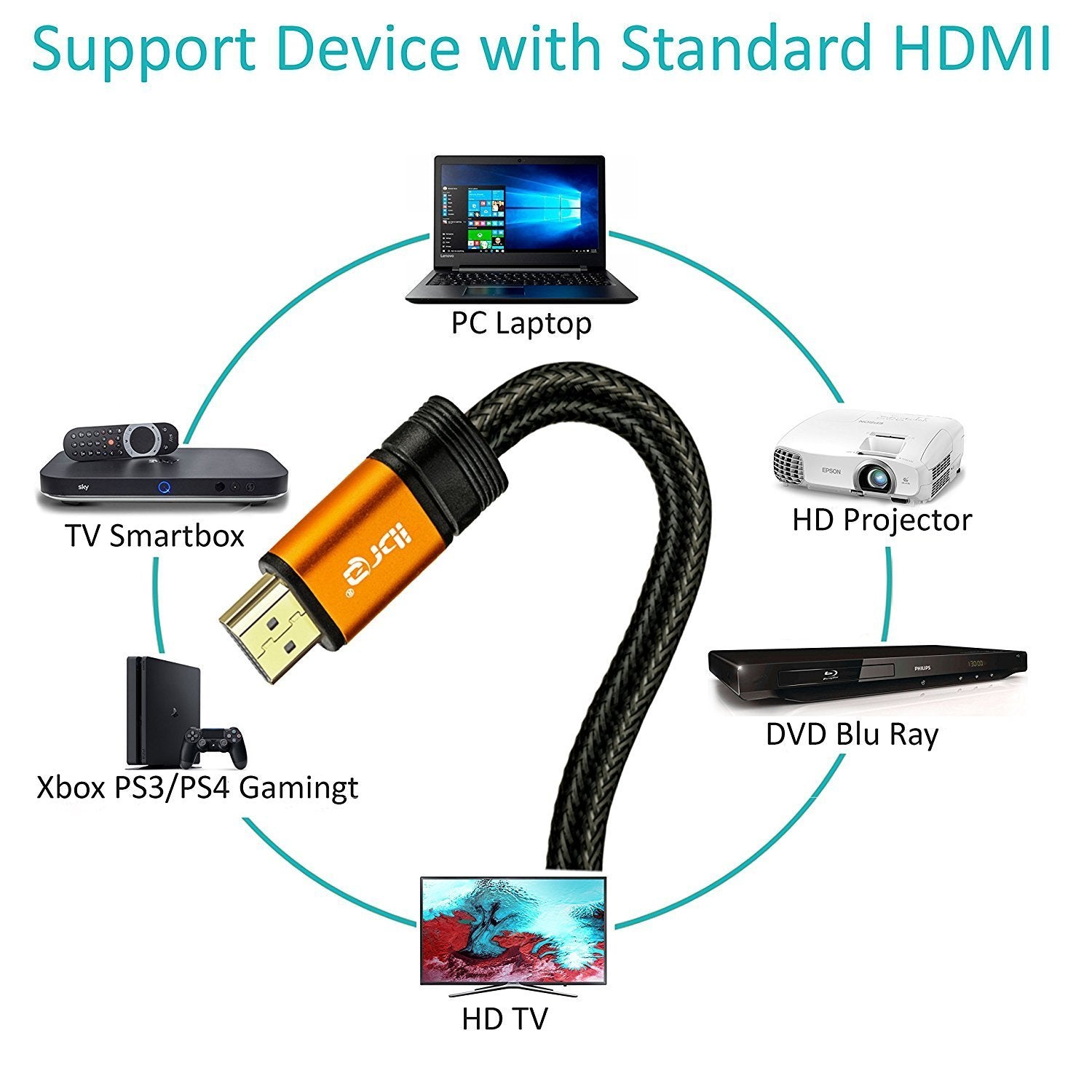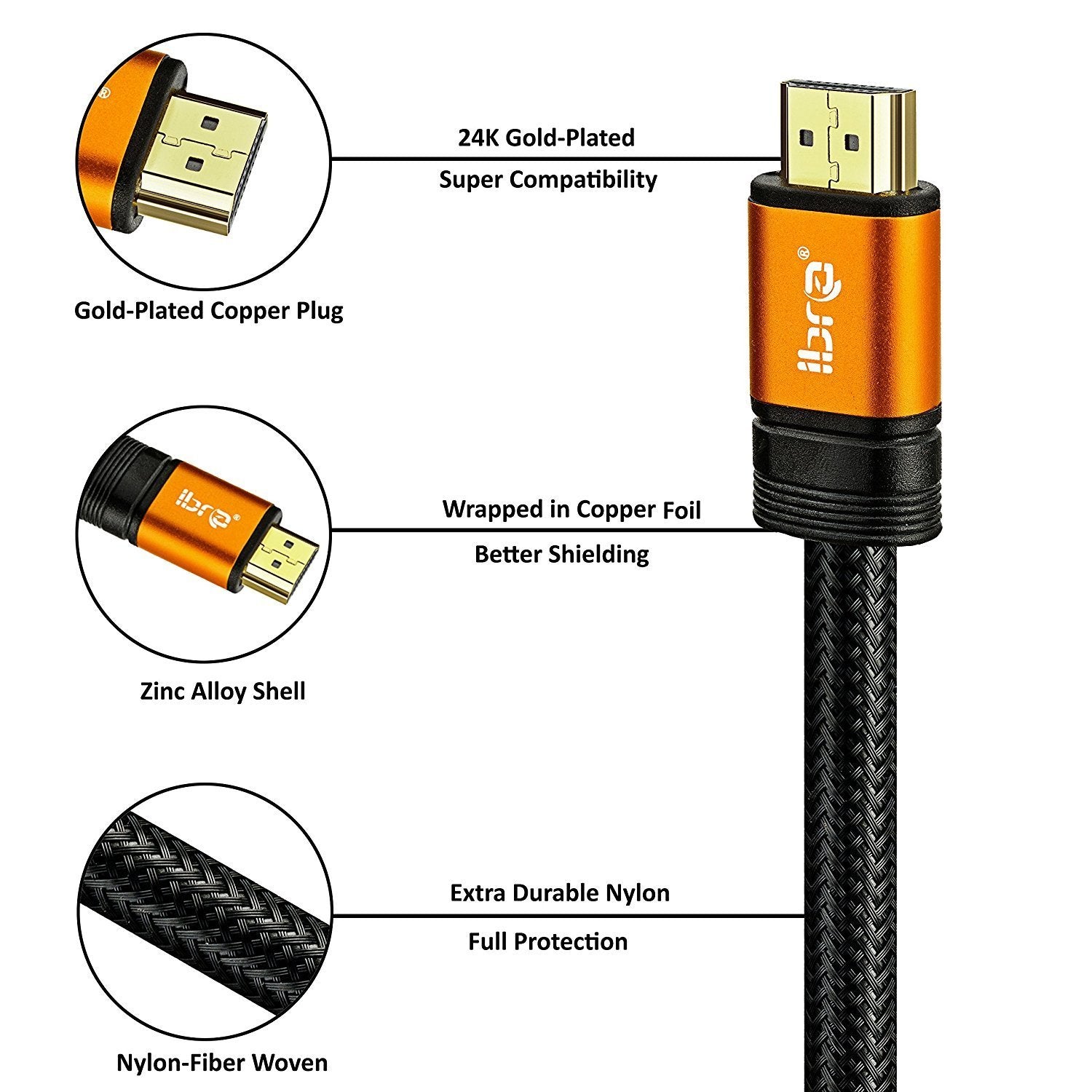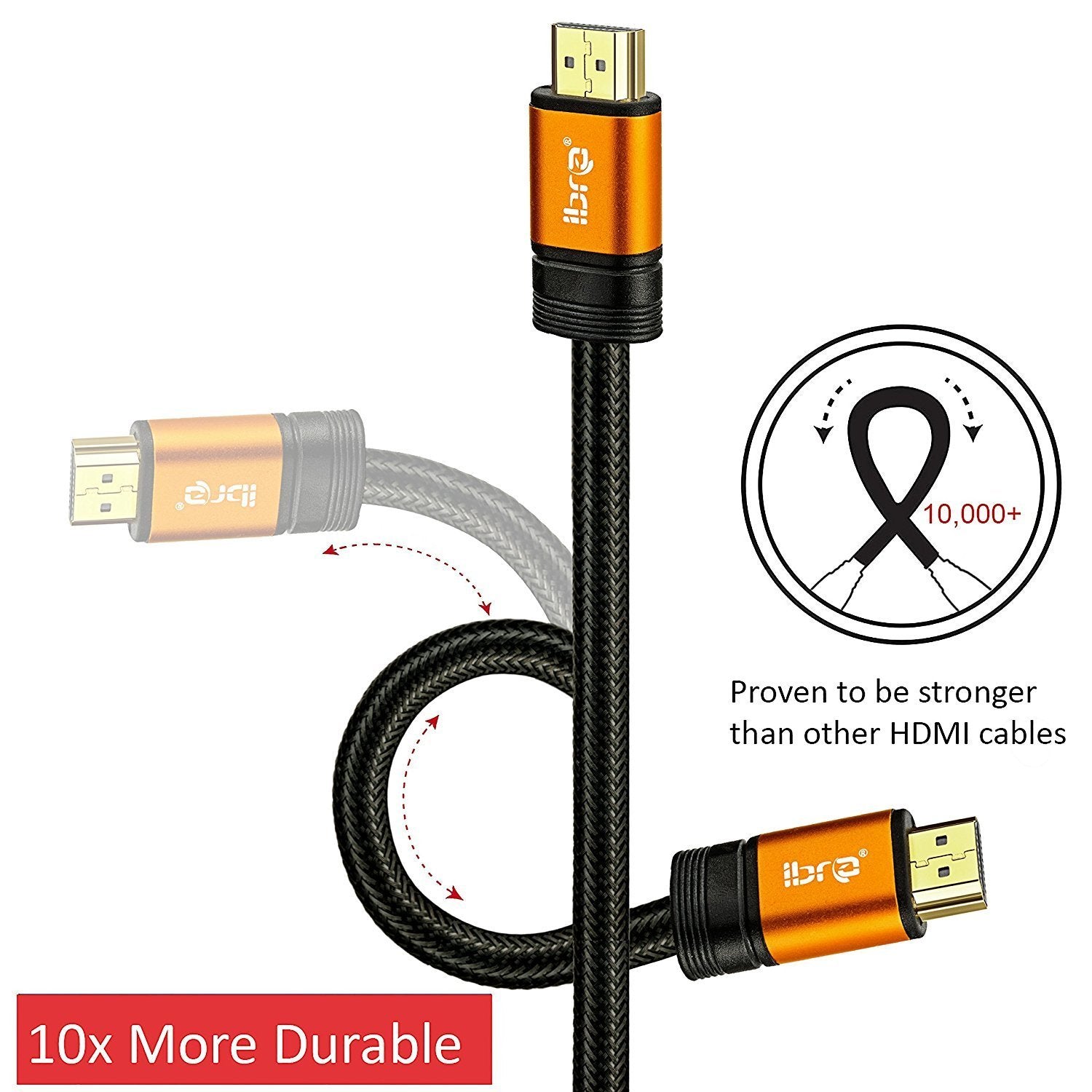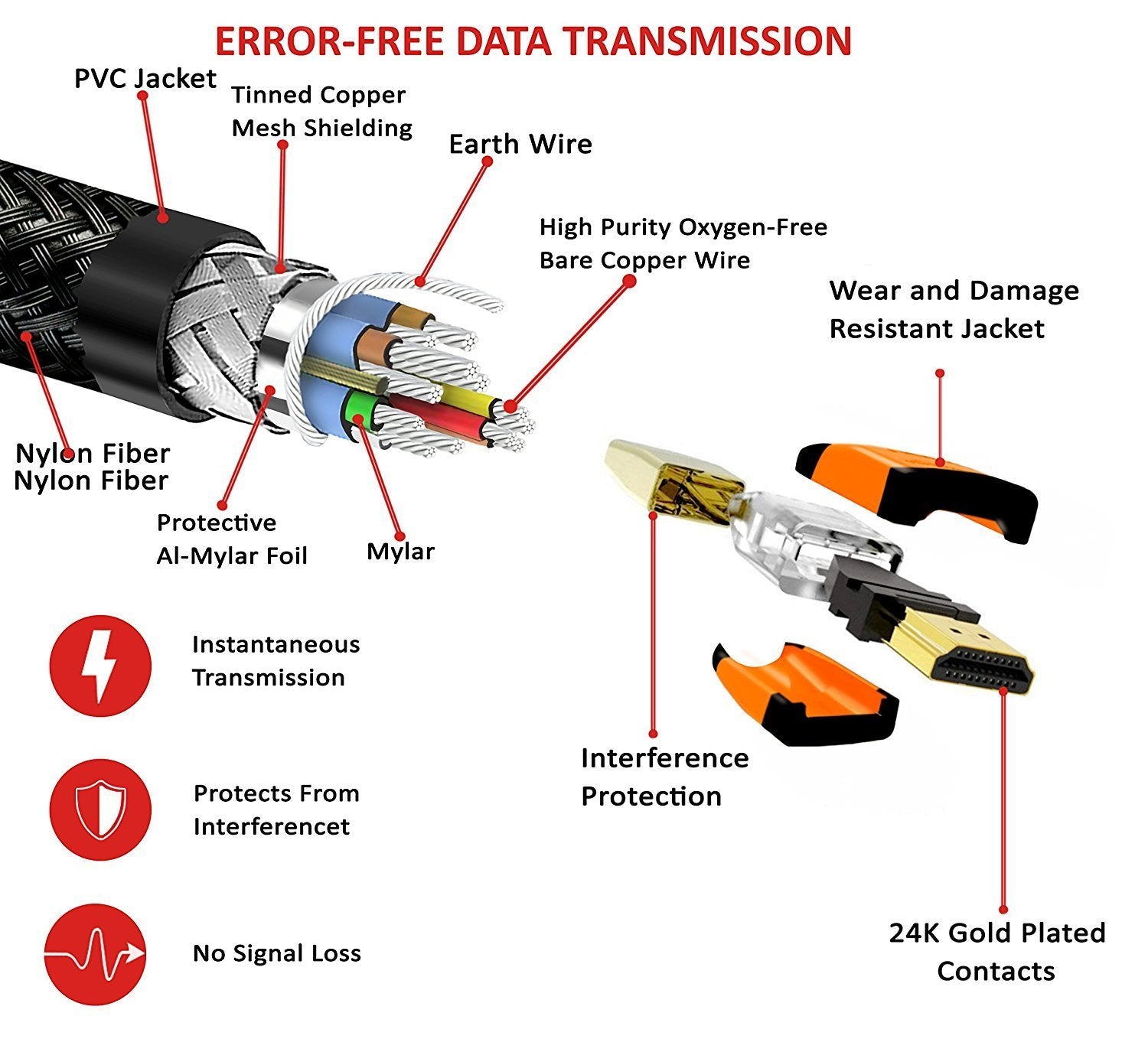 IBRA Orange HDMI Cable 1.5M - UHD HDMI 2.0 (4K@60Hz) Ready -18Gbps-28AWG Braided Cord -Gold Plated Connectors -Ethernet,Audio Return-Video 4K 2160p,HD 1080p,3D -Xbox PlayStation PS3 PS4 PC Apple TV
IBRA® High Speed ORANGE GOLD HDMI Cable - BRAIDED 28 AWG - 4K HDMI 2.0 READY - 18 GBPS - ETHERNET & AUDIO RETURN CHANNEL
HD Zone Presenting a new generation high quality HDMI 2.0 cable! One of a few cables that will drive your 4k@60Hz TV/Monitor at 2160P/60 Hz (if both ports are HDMI 2.0 ports).
The combination of qualities, such as shape, colour, or form ,this beauty is made of 100% pure oxygen-free bare copper and is triple-shielded for maximum performance and ultra low SNR. 
Never mind its thicker than most cables widely sold because a good cable is meant to be thick , Better made cables may even last longer. Most cables use cheap & thin 32 AWG wiring (10 GBPS),which is not enough for 4K@60Hz. IBRA® ORANGE GOLD HDMI cable uses thicker 28 AWG wiring which enables 18 GBPS speed required for 4K@60Hz. 
High Quality Nylon Protection layer protects from abration,which achieve better shielding and even lower SNR.
Ethernet & Audio Return channels eliminate extra network and audio cables.


Supported video resolutions:
*  4K Ultra HD 2160p
*  4:4:4 chroma
*  2K Full HD 1080p
*  3D Format
*  Quad HD 1440p
*  1K HD 720p
This cable also works with:
*  ANY device bearing the HDMI logo.
*  ALL revisions of HDMI v2.0, v1.4 & v1.3
Additional features:
? Only high grade materials are used : Robust and high flexible NYLON jacket.?
? Corrosion-resistant golden contacts for a loss-free transmission.
? Suitable for Wall installation.
MORE INFORMATION
color=Black
is_recurring=No
length=1 Metre Cable
material=Burlap
size=55 cm
sm_featured=No
You will get free shiping option for all orders over 25 GBP. "All cables ordered Monday to Friday before 3pm will be shipped on the Same Day Via Royal Mail 1st Class Delivery Service". Goods other than cables are shipped out Monday to Friday for delivery on your choosen service. We aim to ship all goods within 1 working days of receiving your payment. Buyers in the Highlands and Islands maybe asked to pay a shipping surcharge, this is £9.95 for larger items. Free for small packet items. We will contact you before shipping if this is applicable. Goods valued at over £50 are shipped by courier. A signature is required on delivery for signed for deliveries we use TNT,DHL,UPS and Parcel Force as required. We will where possible provide live tracking information - this will be emailed to you.
Goods must be paid for in full before shipping and must be paid for within 7 days. If you change your mind, simply let us know and we will cancel the transaction.All your payments details will be secured as we use 248bit SSL security.